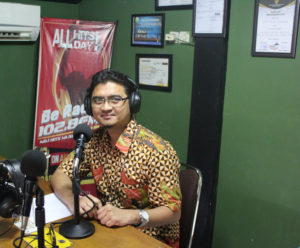 We love people who smile when On The Air..
.
dr. Sukara S Kusuma Jaya, Sp.P, terimakasih sudah hadir di Talkshow kami, Healthy Life with RS. Dewi Sri.
Thank you again for being such a humble figure
.
Tidak akan terasa waktu berjalan ketika kita menjalankan hal yang kita suka, gak kerasa ya 1 jam siaran..
.
*Pesan pak dokter :
Daya tahan tubuh harus kuat, makanan tinggi protein, agar tubuh membentuk antibodi (imunitas) yang tinggi untuk melawan kuman
.